PDO Threadlift is an advanced safe and effective anti ageing technique which have been in use since many years for medical procedures.
It is a minimally invasive , enhancement technique that lifts sagging skin on the face and neck, using specially designed Polydioxanone (PDO )threads. Threads are strategically positioned in the skin, gently , with a fine needle and left behind. These get absorbed in 3 to 4 months leaving behind in their wake newly synthesized collagen fibers which lift in the direction they had been placed.
Immediate changes are seen but final results take 2 to 3 months to show.
Results May Last Upto Two Years
What are the indications?
This procedure is best suited for those with:
Poor jawline definition
Laxity of neck skin
Reshaping and re-countouring and rejuvenation of face
Brow lift
Lifting deep nasolabial folds and
Downward angles of the mouth

Stretch marks

Acne scars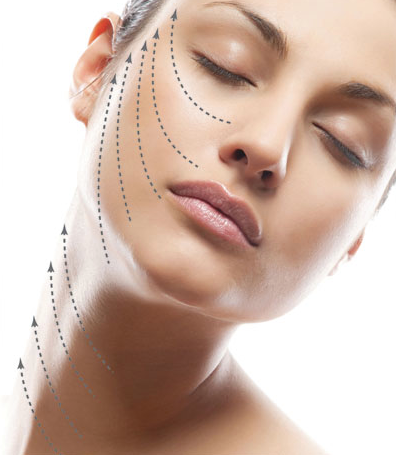 Some More Questions
Topical anaesthetic cream is applied to numb the skin 45 minutes before the procedure.
Avoid direct pressure to the area where threads are placed for example; sleeping on face or a massage.
Avoid excessive chewing, talking and other facial movements for 5 days for the threads to get an adequate grip.
Avoid weight training and strenous excercise for 7 days.
Prominence of entry points for 24 hours which fades away.
Sensations of feeling stretched for 2 to 3 days.
Very rarely localized bruising may occur,which takes 5 to 7 days to fade.