August 31, 2023
Posted by:

kaushal

Category:

Nose thread lift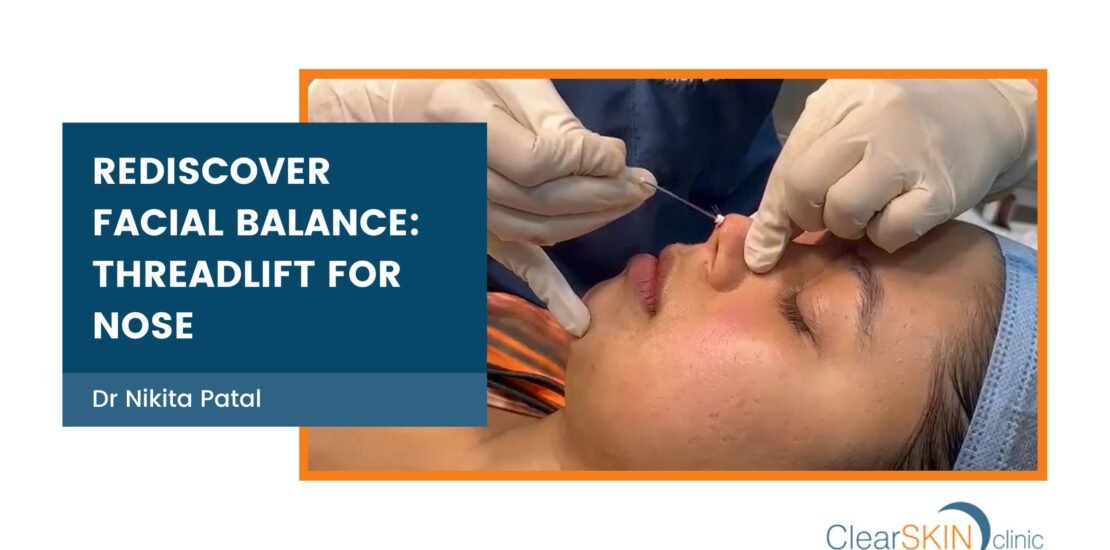 Achieving Aesthetic Excellence with Nose Thread Lift: Enhance and Refine Your Nasal Contours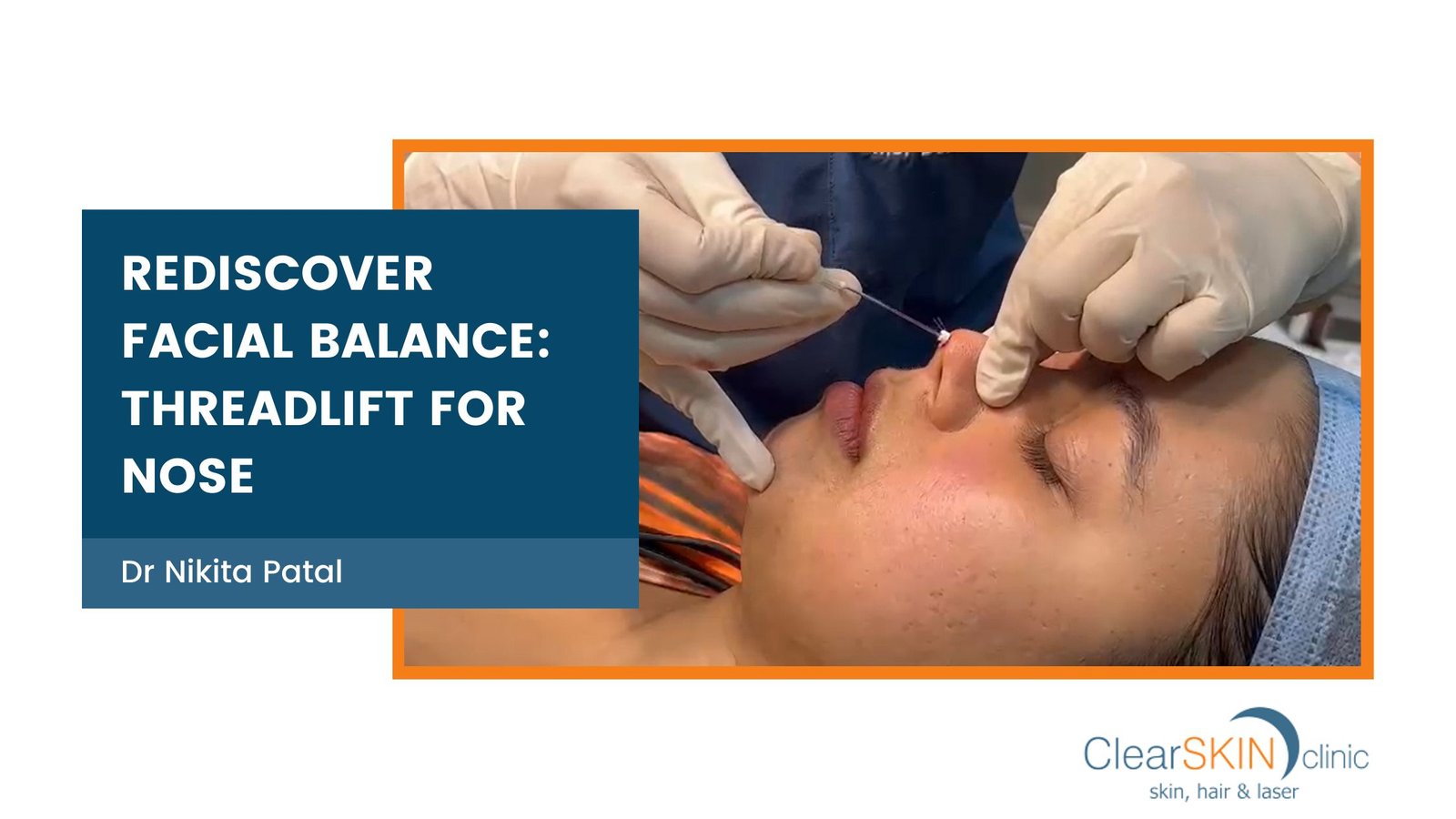 In the world of non-surgical facial rejuvenation, the nose thread lift has emerged as an innovative and effective procedure to enhance the appearance of the nose. This minimally invasive treatment, performed by experienced medical professionals, offers a plethora of benefits and has gained significant popularity in recent years. In this comprehensive blog, we will delve into the intricacies of the nose thread lift procedure, its advantages, limitations, potential complications, and everything you need to know to make an informed decision.
The nose thread lift has become a sought-after procedure due to its ability to produce impressive results without the need for surgery. This technique is particularly appealing to individuals who desire subtle improvements in the shape and contour of their nose, without undergoing a rhinoplasty surgery. The procedure involves the use of dissolvable threads that are strategically placed within the nose to lift, reshape, and refine its appearance
What Can A Nose Thread Lift Do?
Lift Nose Bridge:
The nose thread lift can effectively elevate the nasal bridge, providing a more defined and sculpted look. This is particularly beneficial for individuals with a flat or low nasal bridge, as it creates an aesthetically pleasing profile.
Nose Tip Lift:
For individuals with a drooping or downturned nose tip, a thread lift can achieve a gentle lifting effect, resulting in a more youthful and uplifted appearance. This technique helps to improve nasal symmetry and balance.
Nose Slimming:
Thread lifts can be used to reduce the width of the nose, creating a slimmer and more refined appearance. This is accomplished by strategically placing threads to contour and shape the nasal structure.
Nose Ridge Refining:
The thread lift procedure can also be utilized to refine the nasal ridge, enhancing its prominence and creating a more defined nasal bridge. This is especially beneficial for individuals seeking a more refined and elegant nasal profile.
One of the appealing aspects of the nose thread lift is its longevity. While individual results may vary, the effects of a thread lift can typically last between 12 to 18 months. Over time, the dissolvable threads stimulate collagen production, which helps to maintain the improved nasal contours even after the threads have dissolved.
Compared to traditional surgical rhinoplasty, the nose thread lift offers minimal downtime. After the procedure, some mild swelling, bruising, and tenderness may occur, but these effects generally subside within a few days. Most individuals can resume their daily activities immediately, with only minor precautions advised.
What Can Improve with Nose Thread Lift?
The nose thread lift is an excellent option for individuals seeking to address specific aesthetic concerns without resorting to surgical intervention. Common improvements achieved through this procedure include:
– Correcting asymmetry and enhancing facial balance.
– Softening the appearance of a hooked or drooping nasal tip.
– Improving the definition and height of the nasal bridge.
– Refining the overall shape and contours of the nose.
– Addressing mild to moderate nasal deformities or irregularities.
Noses Suitable For Thread Lift:
Nose thread lift procedures are well-suited for individuals with certain nasal characteristics. This technique is most effective for those with:
– Mild to moderate nasal concerns that can be addressed non-surgically.
– Sufficient skin thickness to support the threads.
– Good overall skin elasticity.
– Realistic expectations about the potential outcomes of the procedure.
What Are The Limitations Of A Nose Thread Lift?
While the nose thread lift offers numerous benefits, it's essential to consider its limitations. Some factors to be aware of include:
– Significant nasal deformities or structural issues may require surgical rhinoplasty for optimal results.
– The nose thread lift can provide subtle enhancements, but it may not achieve dramatic changes.
– Thread lifts cannot reduce the size of the nose; they focus on reshaping and refining existing nasal structures.
– Each individual's response to the procedure may vary, and not all desired outcomes can be guaranteed.
Is It Painful?
The nose thread lift procedure is generally well-tolerated and considered to be minimally painful. Local anesthesia is administered to ensure patient comfort during the procedure. While some individuals may experience mild discomfort, this can typically be managed with over-the-counter pain medication.
What are the possible complications of Nose Thread Lift
Like any medical procedure, nose thread lifts carry a minimal risk of complications. While rare, potential complications may include:
– Temporary bruising, swelling, or tenderness at the treatment site.
– Infection at the insertion points.
– Migration of threads, which can be corrected by a skilled medical professional.
– Rare cases of granuloma formation, which can be managed with appropriate treatment.
– Allergic reactions to the materials used (such as polydioxanone threads).
It is crucial to consult with a qualified and experienced medical professional to minimize the risk of complications and ensure optimal results.
The nose thread lift offers a safe, effective, and non-surgical option for individuals seeking to enhance the appearance of their nose. With its ability to lift, refine, and contour nasal structures, this innovative procedure has revolutionized the field of aesthetic medicine. By understanding the potential benefits, limitations, and risks associated with a nose thread lift, you can make an informed decision about whether this procedure is right for you. Consultation with a qualified medical dermatologist is essential to assess your individual needs and determine the most suitable treatment approach for your goals.