Acne (aka pimples or zits) is the most common skin disease and affects 80% of all people at some time between age 11-30 years. It can have far-reaching psycho social consequences as well as result in permanent disfigurement.
Craters – These are deep scars whose width is equal to or greater than their depth.
Pits – These are scars whose width is less than depth.
Ice pick scars – These are rocket shaped /V shaped scar where base of the rocket is on the skin surface and tip lies at a depth
Box scars – These are deep U shaped scars
Rolled scars– These are W shaped scars.
Hypertrophic Scars– These are raised scars associated with excessive fibrous tissue formation.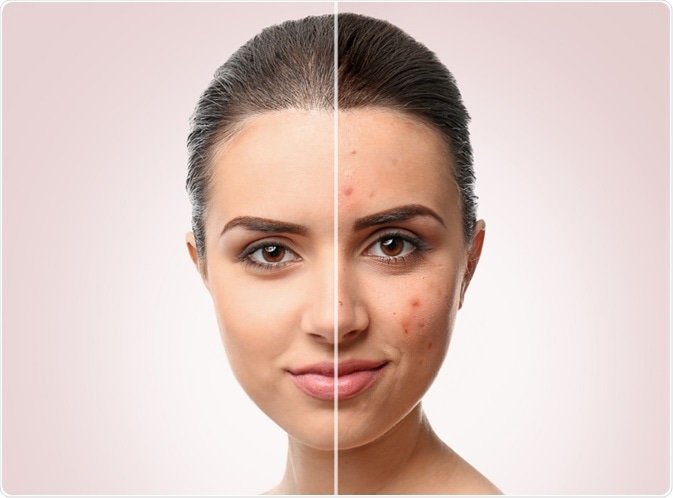 Dermaroller – This is a special instrument, with micro needles, which is used to fill up superficial as well as deep acne scars. The procedure will even out the skin texture through collagen stimulation. 
Chemical Peels – Glycolic Acid peels can be done to treat hyper pigmented, red and shallow scars. TCA peeling can be done for hyper pigmented and deep-pitted scars. Spot TCA (CROSS) peeling is a very good technique for isolated ice pick scars.
Microdermabrasion – A fine stream of aluminum oxide crystals is used to exfoliate the skin's upper layers. The intensity of exfoliation can be varied to suit an individual's skin type from light exfoliation to deeper resurfacing. This procedure stimulates collagen production and renews skin elasticity; thereby, enhancing the skin tone and resilience. This treatment is useful for treating superficial acne scars.
Radio surgery – In this procedure, radio waves are used in ablative mode, to ablate the unwanted layers of the skin and flatten out the edges of scars and to promote collagen remodeling thereby filling up deep irregular scars. 
Steroid injections – Intralesional Steroid Injections like Triamcinolone Acetonide 10mg-40mg may be used for raised keloidal and hypertrophic scars. These injections help to soften thick stubborn fibrous tissue.
Subcision – This involves subcutaneous sectioning of dermal adhesions with a sharp needle thereby lifting the scars. This technique is useful for very deep-pitted scars. ice pick scars, boxcar scars and rolled scars.
Fillers – These can be used to raise sunken scars to the level of surrounding skin. It is a good, instant and safe option. The effects are usually temporary lasting 6- 12 months.
Some More Questions
Following the growing trend of skin resurfacing, Clear Skin Clinic is excited to now offer a new microneedling treatment using the revolutionary Vivace system. Vivace is unique because is combines microneedling with radio frequency energy. This combination helps stimulate and tighten even the deepest layers of skin and can be used to treat any area of the body.
During the Vivace treatment, a handheld device is placed over the targeted skin. The hand piece effortlessly and gently creates tiny openings on the skin's surface. These microscopic openings stimulate new collagen formation as well as the production of skin-tightening agents hyaluronic acid and elastin.
This procedure is used for-
Acne and acne scars

Tighten fine lines and wrinkles

Create uniform tone and texture

Reduce skin pores 

Improve skin's contour

Restore youthful appearance
The treatment process consists of between four and six sessions with regular maintenance afterwards. Each treatment takes between 30 minutes and an hour. Vivace provides the most dramatic results with virtually no pain and no downtime.
A combination of treatments are often necessary depending on the type of scars present for optimal results. Our Dermatologists will help to plan a proper treatment regime at clinic and at home to ensure optimum results.