Hair transplant is a surgical procedure, wherein your own natural hair is taken from the back of your head and transplanted in the bald areas. The hair at the back of your head do not go bald, as they do not have receptors for DHT hormone that causes hair loss. Hence all hair transplant techniques utilise those hair to cover the existing bald patches.
Receiving a hair transplant can improve your appearance and self-confidence. Good candidates for a hair transplant include:
men with male pattern baldness
women with thinning hair
anyone who has lost some hair from a burn or scalp injury
Hair replacement isn't a good option for:
women with a widespread pattern of hair loss throughout the scalp
people who don't have enough "donor" hair sites from which to remove hair for transplant
people who form keloid scars (thick, fibrous scars) after injury or surgery
people whose hair loss is due to medication such as chemotherapy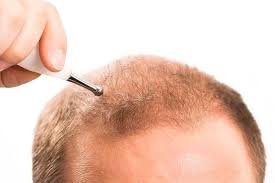 Some more questions
PRP therapy is a three-step process. Most PRP therapy requires three treatments 4–6 weeks apart.
Maintenance treatments are required every 4–6 months.
Step 1
Your blood is drawn — typically from your arm — and put into a centrifuge (a machine that spins rapidly to separate fluids of different densities).
Step 2
After about 10 minutes in the centrifuge, your blood will have separated into in three layers:
platelet-poor plasma
platelet-rich plasma
red blood cells
Step 3
The platelet-rich plasma is drawn up into a syringe and then injected into areas of the scalp that need increased hair growth.
Your scalp may be sore, and you may need to take medications following hair transplant surgery, such as:
pain medication
antibiotics to reduce your risk of infection
anti-inflammatory medications to keep swelling down
Most people can return to work several days after surgery.
It's normal for the transplanted hair to fall out two to three weeks after the procedure. This makes way for new hair growth. Most people will see some amount of new hair growth 8 to 12 months after surgery.
Many doctors prescribe minoxidil (Rogaine) or the hair growth medication finasteride (Propecia) to improve hair regrowth. These medications also help slow or stop future hair loss.
When I do hair transplant, I walk out with full head of hair.
Hair Transplant is the final recourse for anyone suffering from hair loss.